Pitfalls to avoid when designing a bathroom

Budget
Most people when designing a bathroom underestimate the total cost. It is, therefore, crucial leave room for the budget adjustment as you may have to adjust upwards. We may have unforeseen events like dry rot, electrical service, insufficient water pressure, etc.  This issues automatically inflate your budget thus always create room for an upward adjustment.
Improper Installation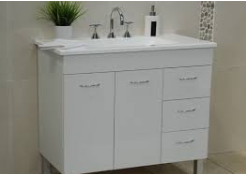 Given the watery nature of the bathroom, it is key to focus on the electric installation. Poor installation can blow out the whole house. An improperly installed electrical outlet poses a health hazard to the bathroom users.A bathroom installation upgrade is very expensive and interferes with the normal running of the bathroom for the time it is being repaired. Therefore, do not fall into the rut of not investing in quality installation.
Poor spacing
When designing a bathroom, it is key to consider your needs and family size. Some homeowners do not focus on the space of the bathroom just for them to regret that position later on. Despite the building code requirement set by local authorities some people still miss the mark or do not consider their needs and family size before designing the bathroom. If possible build a big bathroom with some luxurious space to fit your needs and wants.
Lack of Storage
Bathrooms also act as storage areas for many households. Most of the bathroom items i.e. towels, toothbrushes. Toothpaste is stored in the bathroom. Therefore, consider the storage space of bathroom while designing.
Choosing the wrong materials
Given the nature and use of the bathroom, it is key to consider the material use in designing the bathroom. The bathroom is exposed to water, heat, chemicals, etc. Therefore, materials like wood cannot withstand such an environment, therefore it is advisable to choose heat and water resistant material.
Inadequate lighting
Most bathrooms do not have big windows that allow a lot of lighting in. Thus, if not properly designed the bathroom lighting can be insufficient. Therefore, it is important to consider lighting as a key factor in the design because it is hazardous not to have good lighting in the bathroom. The users risk toppling over in the bathroom with poor lighting. It is advisable to install a bathroom rated light over your sink and near the shower.
Improper ventilation
It is fundamental to get a good air flow in the bathroom, so this improves ventilation in the bathroom.When humidity is trapped in the bathroom, it affects the metal in the bathroom and causes rust. Unless you have installed proper ventilation in the bathroom, you will have to deal with molds and mildew.